(TL:DR- skip past the diagram for the issue) Greetings everyone! I once was KC4YGU some 20 years ago, but never got past dabbling with 2m Ham before lack of funds as a broke 20-something and the real world conspired to put an end to my radio aspirations. Fast forward to a month ago, and I started reading more about SDR dongles and how technology has placed all those dreams of SSTV, RTTY, and much much more at my fingertips for $27. I bought an RTL-SDR Blog V3 with Amazon gift card money (at this point in our lives, my entire family pretty much just sends each other gift cards for Christmas. I could personally do with some Legos like I got as a kid, but oh well.) Initially set it up on a PC in my basement office with the stock antenna, but was extremely impressed by what I could do even in this EMI riddled subterranean setting. Moved it upstairs and stuck the antenna to the door to the deck and the noise floor and reception improved dramatically. I was hooked.
Went on a building spree and built a 3-band dipole for HF and purchased a dipole for VHF-UHF and other odds and ends. Setup is pictured below; dipole is connected to a Nooelec Balun 1:9, dipole mast (10 feet of conduit that puts it just over the eaves) grounded to newly installed ground rod (house was built in 1967 and house ground is at the pole rather than a separate ground rod). Used RG-6 as I had tons of it and many compression F connectors available(used to be a low voltage tech in the past and kept the tools), connected them to a ground block grounded to the rod, and ran the short ends into the basement. All was happy for a month; I made sure to disconnect the antennas when I wasn't using it and shorted them before connecting. Listened to east coast hams on 160/80/40/20/10 and shortwave stations in Vietnam and China, Middle East, etc. The AM broadcast band was full of stations from St. Louis and on (I live in GA), and I was discovering all kinds of things on VHF and UHF. CB is alive, who'd've thunk it. I live 1 mile from a regional airport and 60 miles from Hartsfield International, so plenty of ADS-B and air band action.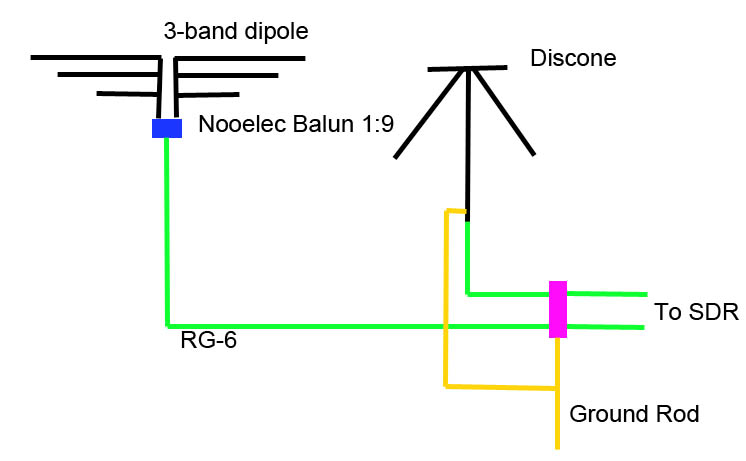 Then, a couple of days ago, hooked the antennas up and... well, not nothing; but very very reduced reception and increased noise floor. Finding AM stations around the CB bands, and harmonic echos of some stations. Tried SDR#, HDSDR, SDR Console, and SDRUno on PC and Cubic on the upstairs Mac with the stock antennas, same deal. Previously overwhelming local FM stations were now marginal.
I suspect I've fried it with static from the antennas despite my precautions. I'm amending my setup with some T-connectors just before the grounding block with resistors across the coax to bleed off static. Does this sound reasonable, and does it sound like ESD from the antennas might be to blame?