Hi,
I have been trying for some time to get images from the NOAA sattelites using this:
A Laptop with Obritron , SDR sharp and WHToimg.
A QFH antenna with 3d printed parts.
For the antenna I used several online guides, but mainly the one from the link above. I used the calculator at jcoppen's website.
The wiring was a bit tricky to understand, but what I basically did was the setup shown here: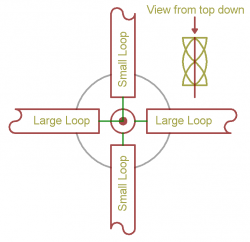 Yesterday I went to my village outside of town to test my setup once again. I wanted to be somewhere with a clear view of the sky and as few signals as possible. Yet again I got just a bit of signal only when the satellite was passing exactly above my head.
This is my antenna.
What am I doing wrong?