New RTL-SDR Drivers and SDR-Console ExtIO Available: Bias Tee Support, Direct Sampling, Tunable IF Filters and Improved Gain Profiles
Recently two branches of RTL-SDR drivers were updated. Over on GitHub racerxdl's librtlsdr branch adds bias tee support for our V3 RTL-SDR.com dongles to rtl_adsb, rtl_fm, rtl_power and rtl_tcp.
For SDR-Console users jdow's ExtIO and driver now has an option to enable the direct sampling mode, which is allows the HF mode on our V3 dongles to be activated. The ExtIO module can be downloaded from her Google drive.
To use Joannes drivers download the SDRconsole folder by right clicking it, and selecting download. Then copy files from the x86 (32-bit) or x64 (64 bit) folders into the SDRConsole folder, replacing any files that already exist. Run the RtlSdr Catalog.exe file, then open SDR-Console and from the definitions choose RTL-SDR(Full). Then in the Radio Configuration settings you can choose to use the Q-branch, which will automatically enable the direct sampling mode when tuned below 24 MHz.
We've also discovered that Joanne has been working on RTLSDR++, which is a driver upgrade that includes some pretty interesting enhancements. When running Joanne's drivers in SDR-Console we also see options to change the IF filter bandwidths of the R820T2 tuner. This is very useful as this allows you to control the preselector on board the R820T2. You can use this to attenuate strong out of band signals. Her driver also has improved gain profiles. One gain profile is optimized to reduce IMD distortion (prevent overload and images), and the other is designed to optimize sensitivity.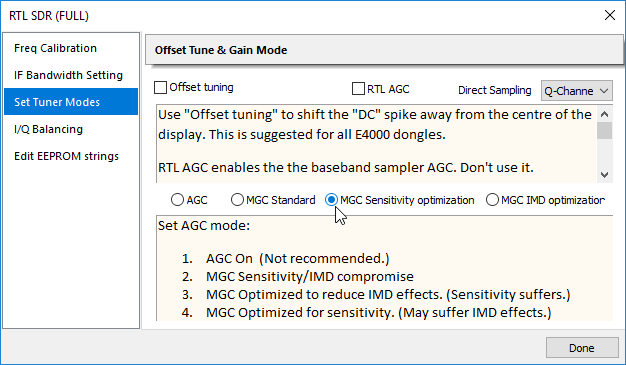 In addition Joanne has also created RtlTool.exe which is a GUI replacement for rtl_test.exe and rtl_eeprom.exe. It can be used to test for lost samples on your RTL-SDR and to flash the EEPROM memory. Most RTL-SDR dongles on most PCs are stable up till 2.56 MSPS, but this tool can be used to check. It can also be used to set the dongle serial number, vendor ID and name by flashing the EEPROM which most RTL-SDRs contain.
There's also the RtlSdr Catalog tool which also helps manage multiple dongles being connected to the PC at once. See the readme file for more information on using this tool.
All these programs can also be downloaded from Google drive. Her RTL++ driver is also open sourced and available on GitHub.