RTL-SDR Tutorial: Decoding Meteor-M2 Weather Satellite Images in Real-Time with an RTL-SDR
Update 02 August 2019: Please use Happysats tutorial which is available here. Happysats tutorial will work for Meteor M-N2-1 and Meteor M-N2-2.
Back in September last year we posted a tutorial written by RTL-SDR.com reader Happysat which showed how to receive and decode high resolution Meteor-M2 LRPT satellite images. The tutorial required several offline manual processing steps to be performed and therefore could not decode the image in real time.
Now Vasili, a SDR# plugins programmer, and Oleg who is the coder of Lrptdecoder have combined ideas to create a new QPSK demodulator plugin for SDR# that allows the real time reception and decoding of Meteor-M2 LRPT images (in Russian use Google translate). The demodulator also offers the advantage of faster and longer signal locking, and also works much better with weak signals compared to the old method. 
At the same time Vasili has also released another plugin called DDE Tracker which allows a satellite tracking program such as Orbitron to interface with and control SDR#. The plugin can be downloaded on the same page as the QPSK plugin. This is similar to the already existing DDE plugins, but now also comes with a scheduler which allows users to automatically schedule recordings of Meteor-M2 and NOAA satellite passings.
NOTE: Meteor M1 has come alive again, so the frequency of Meteor M2 was changed from 137.1 MHz to 137.9 MHz. Meteor M1 is now at 137.1 MHz and can be received using the same steps as in this tutorial, though please note that images from Meteor M1 are not perfect since the satellite is tumbling. Meteor M1 is gone again.
Tutorial
To help users get set up with this new method, Happysat has again come forth with another tutorial which can be downloaded here (.pdf) (.docx) (.txt w/ images in .rar). At first glance the tutorial may seem more complicated than the old method, but in the end it is a much faster and more efficient way at decoding LRPT images. The basic steps involve setting up Orbitron and the DDE plugin to automatically track the Meteor-M2 LRPT satellite and signal, and then setting up the QPSK plugin and the new version of Lrptdecoder (if that link is down, try this mirror) to talk to one another in real time via a local TCP connection.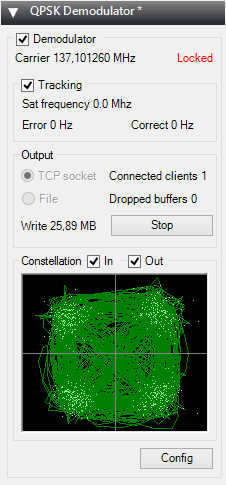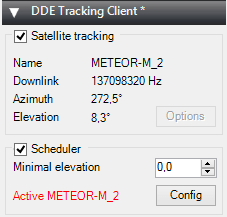 AMIGOS
One more Meteor-M2 related thing to look forward to in the future is the AMIGOS project which stands for Amateur Meteor Images Global Observation System. This will be a system where users around the world can contribute LRPT images through the internet to create a worldwide LRPT receiver. Oleg of LrptDecoder writes:
There is an idea to merge LRPT receive amateur radio stations in a network through the Internet and create a super LRPT receiver.

I see the benefit of professionals from the control center in the operational monitoring of the condition of the equipment MSU-MR, and for fans of the fullest reception of images from Meteor-M.

All is in testing phase and need some setup for the servers,  data is beeing shared thru a VPN connection to a central server which will have a continous flow of images from all over the world.

Users can join and share in realtime the data more info on:
http://meteor.robonuka.ru/for-experts/amigos/
What is Meteor-M2?
If you don't understand what all this is about: The Meteor-M N2 is a polar orbiting Russian weather satellite that was launched on July 8, 2014. Its main missions are weather forecasting, climate change monitoring, sea water monitoring/forecasting and space weather analysis/prediction.
The satellite is currently active with a Low Resolution Picture Transmission (LRPT) signal which broadcasts live weather satellite images, similar to the APT images produced by the NOAA satellites. LRPT images are however much better as they are transmitted as a digital signal with an image resolution 12 times greater than the aging analog NOAA APT signals. Some example Meteor weather images can be found on this page and the satellite can be tracked in Orbitron or online.
A software defined radio such as the low cost RTL-SDR, or the higher end Airspy and Funcube dongles can be used to receive these signals.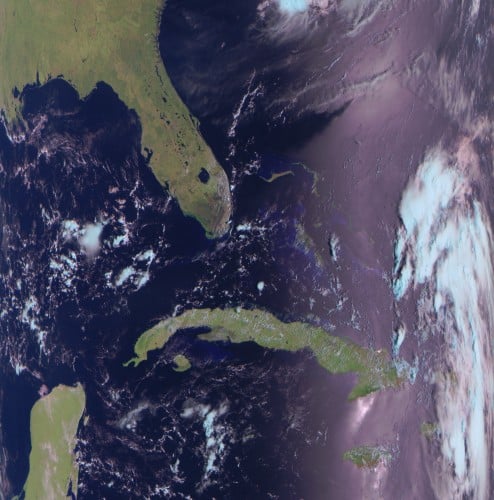 Updates
The DDE plugin can also be used for tracking NOAA satellites. Some people have been having trouble with set up. Happysat writes a solution:
Download TLE from: http://www.celestrak.com/NORAD/elements/noaa.txt. Make sure the names are the same in DDE Sat Tracking Client schedule. https://dl.dropboxusercontent.com/u/124465398/NOAA_Setup.jpg. Same one as i post in the howto - https://dl.dropboxusercontent.com/u/124465398/DDESchedule.rar