Working Towards a Fast OpenWebRX HF Web Receiver + The Ethics of KiwiSDR
Over on his blog András Retzler has created a post that discusses his research work on creating a fast networked wideband HF receiver. András is the creator of the web based OpenwebRX software, which allows RTL-SDR and some other SDR's to efficiently broadcast their SDR data over a network and onto the internet. Some live SDR's can be found at the OpenWebRX directory at sdr.hu.
The problem with the current implementation, András writes, is that while OpenWebRX works well with the RTL-SDR's 2.4 MSPS sampling rate, it can not work so well with very high sampling rates, such as 60MSPS due to excessive computational requirements when several channels need to be monitored. András' solution is to use his Fast Digital Down Conversion (FastDDC) algorithm which is significantly more CPU efficient. András writes that the FastDDC algorithm improves computation by up to 300% in some cases, can speed up calculations on low powered computers like the Raspberry Pi 2 and can be implemented on a GPGPU for even higher performance. He is still working to implement the algorithm in OpenWebRX.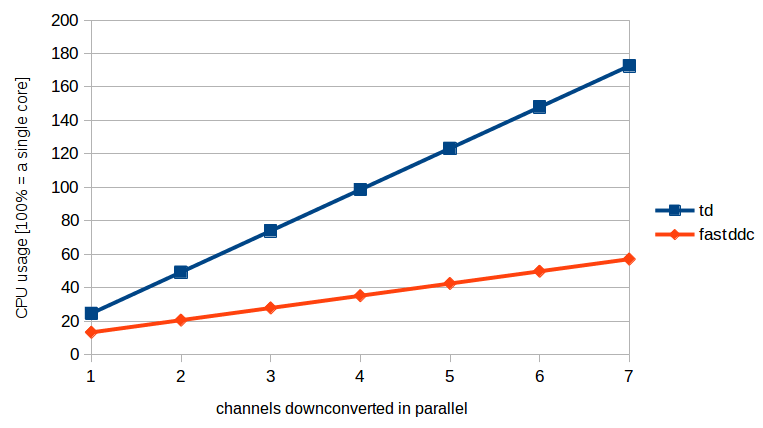 In addition to his work, András has also posted about what he feels is a bit of an injustice between his work on OpenWebRX and the KiwiSDR designers. The KiwiSDR is a new wideband HF SDR that has recently been successfully funded on Kickstarter. Andras writes that he is discontented with the fact that the KiwiSDR developers have forked his open source software (OpenWebRX) and are now profiting from it, without contributing back to the original project.  András writes:
John Seamons has forked OpenWebRX, and sells his own hardware with it. The web interface is clearly the selling point of the device. After getting a lot of help from me, most of which was inevitable for his success, now John and ValentF(x) are leaving me with nothing, except a 'Thank you!'. John has told me that OpenWebRX is a large part of his project, and he also claimed that my work has reduced the time-to-market of his product by maybe a year or so.

Why I'm standing up here is that forking open source software (which means changing the code in a way that is incompatible with the original version, and taking development in another direction), and funding it through Kickstarter is a very unusual way of getting things done. I acknowledge that John has very much work in his board and the accompanying software, however, he treated me and my project in an unethical manner.
In the Kickstarter comments section, the KiwiSDR creators reply back with their side. It is hard to say who is in the right in a situation like this. While what KiwiSDR have done is legal according to the licence, the ethics of doing so are questionable. We hope that both parties can successfully come to an agreement in the end.
If you want to directly support András and his work on OpenWebRX and other projects like FastDDC, then please consider donating to him at http://blog.sdr.hu/support. If you are a KiwiSDR backer, donating to Andras may be one way to right the situation if a deal cannot be reached.