By using an RTL-SDR dongle together with a low cost noise source it is possible to measure the response of an RF filter. Also, with an additional piece of hardware called a directional coupler the standing wave ratio (SWR) of antennas can also be measured. Measuring the response of a filter can be very useful for those designing their own, or for those who just want to check the performance and characteristics of a filter they have purchased. The SWR of an antenna determines where the antenna is resonant and is important for tuning it for the frequency you are interested in listening to.
These tutorials are based heavily on information learned from Adam Alicajic's (9A4QV), videos which can be found at [1], [2], [3], [4]. Adam is the creator of the LNA4ALL and several other RTL-SDR compatible products. Recently Tim Havens also posted some experiments with characterizing home made filters on his blog.
Characterizing Filters
Using just a noise source and RTL-SDR dongle it is possible to determine the properties of an RF filter. In our experiments we used the following equipment:
Equipment
The BG7TBL noise source is a wideband noise source that can provide strong noise over the entire frequency range of the RTL-SDR. It requires power from a 12V source which can be obtained from a common plug in power supply. It also uses an SMA female connector, so you may need some adapters to connect it to your filter under test (adapters can be found cheaply on Ebay). Finally a quick warning: be careful when handling the circuit board after it has been powered for some time as some of the components can get very hot. Note that if the Ebay store runs out of these there is also a seller on Aliexpress with some available, just type "noise source" in the search bar.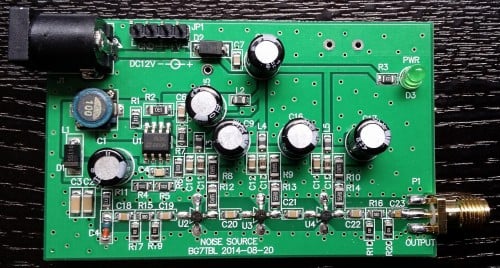 If you have a ham-it-up upconverter and are good at soldering small surface mount components you might instead consider purchasing the noise source kit add on. Here is a video showing how to build and test the ham-it-up noise source. Continue reading →