Some Further Tests with the ADALM-PLUTO SDR
Last week we posted about the unboxing of the ADALM-PLUTO SDR as well as some information about a hack that can be used to increase the tuning and bandwidth range of the SDR. In this post we show some initial tests and first impressions of the the receive performance of the SDR.
We tested the PlutoSDR on a number of frequencies, some in the default tuning range, and some in the frequencies enabled by the hack. In terms of sensitivity not much difference was noticed in the expanded frequencies. Sensitivity overall is decent and seems to be comparable to other SDRs. However, the PlutoSDR does suffer quite heavily from out of band imaging. Although there is a 12-bit ADC being used, filtering is still necessary for many signals. Broadcast FM, DAB, HDTV and GSM are all very problematic and images of these signals can be found all over the spectrum if they are strong. Above about 800 MHz two broadcast FM stations show up in the exact same place at all frequencies, no matter the gain setting.
Imaging is probably expected as the IIP3 spec of the AD9363 RF chip used in the PlutoSDR is not that great at only -18 dBm at max gain. Other SDRs like the Airspy Mini and RSP2 don't have imaging anywhere as bad as the PlutoSDR as they have naturally high dynamic range in the case of the Airspy and filter banks built-in in the case of the RSP2.
Below are some example screenshots of the imaging we saw from strong signals. We used SDR# with the new PlutoSDR plugin, and set the sampling rate to 3 MSPS. On these screenshots we note that turning down the gain did not help, so these images were present in some way no matter the gain settings. There is probably still some optimization to go in the SDR# plugin, so it's possible that imaging could be reduced with further work.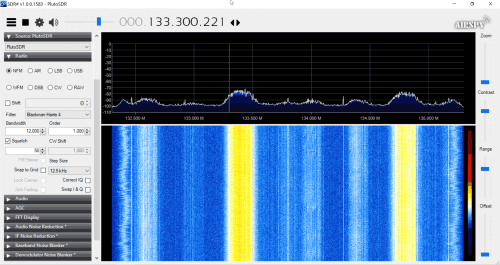 To test sensitivity we recorded audio on a few weak signals that did not have any images present, and we kept the gain at the highest it could go without the noise floor rising or images showing up.
Again we used SDR# with the PlutoSDR plugin, and set the sampling rate to 3 MSPS. We note that anything higher than 4 MSPS causes lost samples and thus jittery audio as this is the hardware limit of the PlutoSDR.
BCFM
This is a weak BCFM station. The PlutoSDR actually seemed to receive it better than the Airspy Mini. The RSP2 could not receive it, and the weak audio heard on the RSP2 is audio from an image.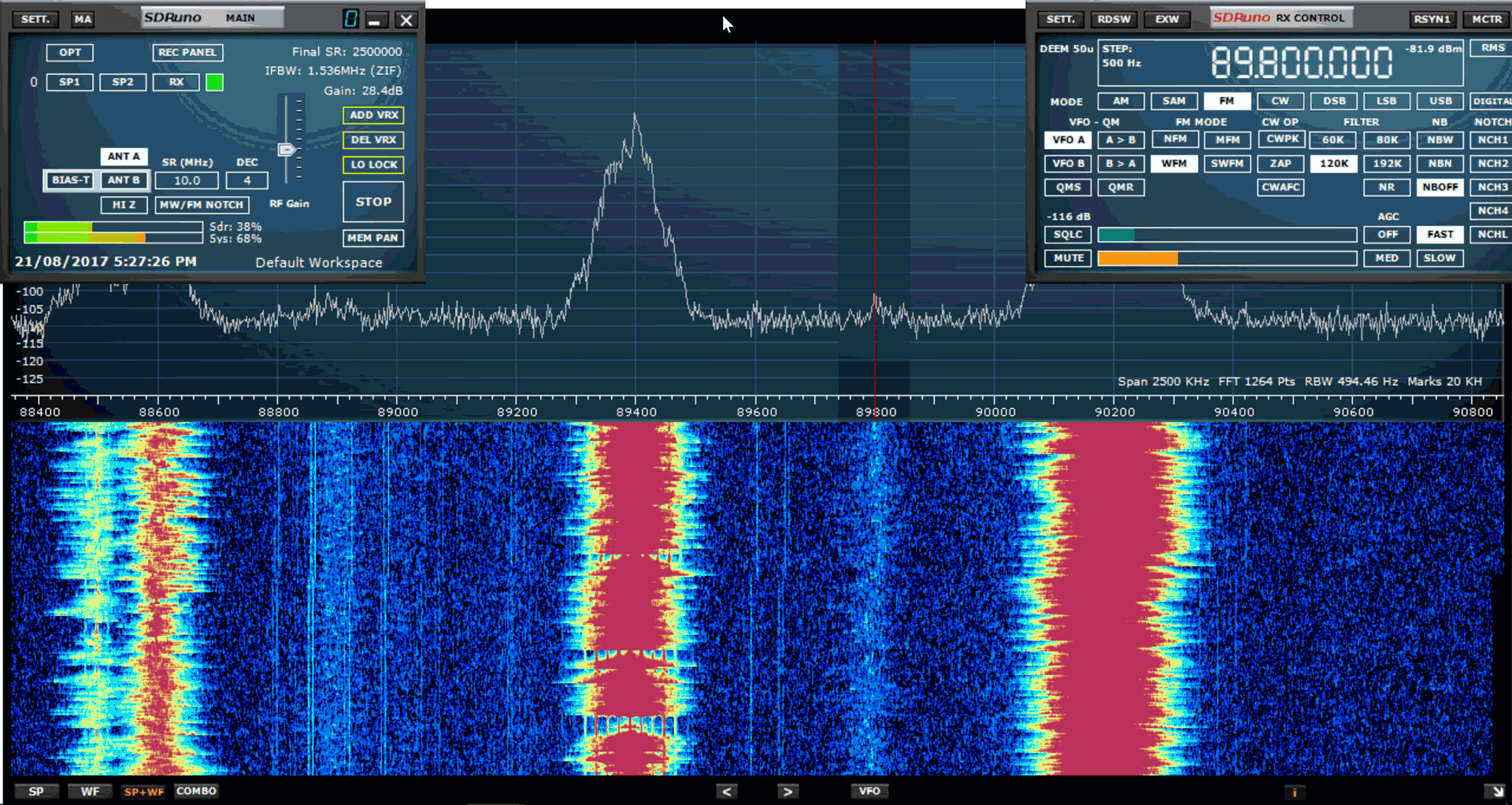 161 MHz
This is a voice weather station. Here the PlutoSDR was very comparable to the Airspy Mini and RSP2. Not much sensitivity degradation in the 'hacked' expanded frequency range.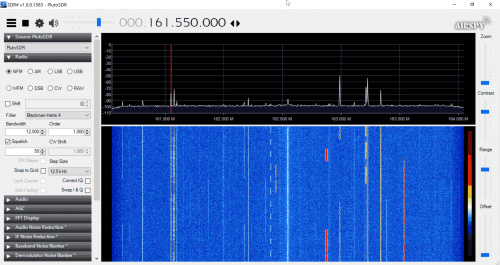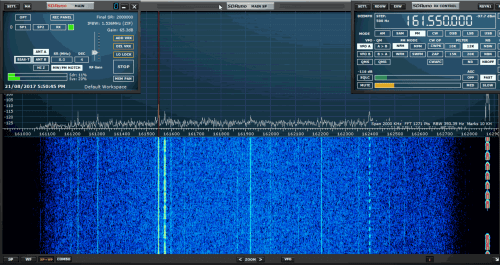 858 MHz
This is a digital trunking signal (there was no stable voice source this high to test with). Sensitivity is about the same as the other SDRs.






BCAM (Night)
A night time BCAM test. The PlutoSDR was coupled with a SpyVerter. Performance was quite good and on par with the Airspy Mini.






L-Band
Tested reception with a L-band patch antenna (no external LNA). Tested STD-C reception too. The PlutoSDR worked very well on L-band and had similar performance to the SDRplay. The Airspy is not good at L-band without an LNA and could not receive the STD-C channel by itself.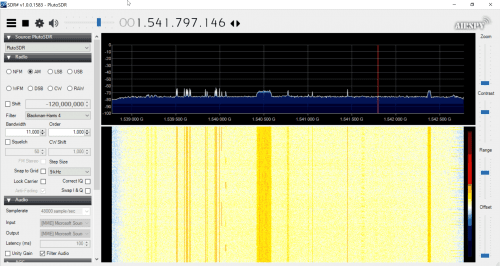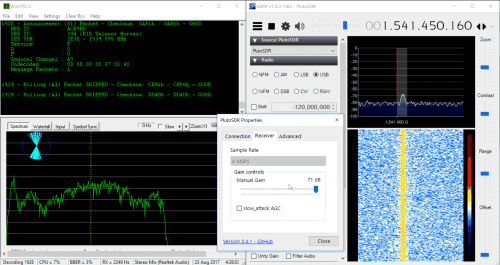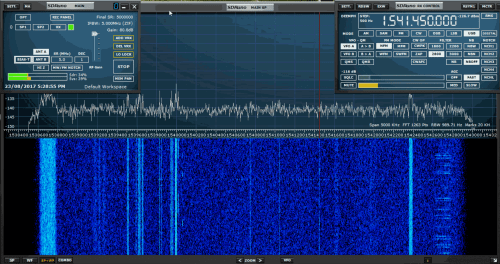 Conclusion
It's clear that the PlutoSDR wasn't made to be a general purpose high performance SDR, but rather a hackers/experimenters/learning SDR.  Performance in terms of out of band imaging is not great, and for any real listening filters may be required. That said, the performance is overall still not bad and overall still a bit better than an RTL-SDR or HackRF. With filtering the performance could be comparable to something like the Airspy Mini or SDRplay RSP2. Performance on L-band is very good, assuming you can filter or use a directional antenna to attenuate strong blocking signals. It's also possible that further tweaks to the filter settings of the SDR# PlutoSDR plugin could improve imaging problems.
It's also a bit disappointing that the maximum sample rate available is only 4 MSPS without drops. So this is the highest rate that you can use if you want to decode a signal, or listen to audio. For wideband waterfalls or spectrum analysis or other applications tolerant to dropped samples it should be possible to go up to the full 61.44 MSPS.
All in all, if you are interested in a low cost wideband SDR that does almost everything including TX, and are not too concerned about strong signals, images and overload, then this is still a great purchase at $99 USD (Digikey out of stock now, available for $149 on the Analog.com store). This SDR should be especially interesting to you if you are an SDR hacker/experimenter/student or are a fan of cheap SDRs/RTL-SDR/HackRF etc. If you are a ham or DXer and want something that just works with your high performance antennas and strong signals then you might look elsewhere.
On Twitter others have come to similar conclusions.
AirSpy > PlutoSDR > RTL-SDR > HackRF in Terms of Signalquality.

— Manawyrm (@Manawyrm) August 21, 2017