Two New SDR# Plugins for Passive Radar and IF Signal Averaging
March 2019 Update: Website appears to be down now. But the DropBox download links are still active.
Passive Radar Plugin: https://www.dropbox.com/sh/tqjycu9nxdfhk0u/AAA9KSE6-mRUwV10s0F9v7Jpa?dl=0
IF Average Plugin: https://www.dropbox.com/sh/tqjycu9nxdfhk0u/AAA9KSE6-mRUwV10s0F9v7Jpa?dl=0
Recently Dr. Daniel Kaminski wrote into RTL-SDR.com to let us know about two very interesting new SDR# plugins that he has developed to use with the RTL-SDR dongle. The first plugin is called "Passive Radar". Passive Radar allows you to use an existing strong transmitter such as an FM station to detect reflections from things like aircraft and meteors. Dr. Kaminski writes about his plugin:
The first one is Passive Radar which bases on the signal from only one dongle. The ambiguity function is the same as in advanced projects with the difference that  I implemented self-correlate function instead of cross-correlate one which is used in 2 dongles projects. Such solution theoretically should works as can be found in internet. It should be noticed that for proper work of such passive radar the direct signal should be comparable in strength to the reflected  one. This plugin is still under development.
In the future he hopes to be able to support two dongle passive radar as well.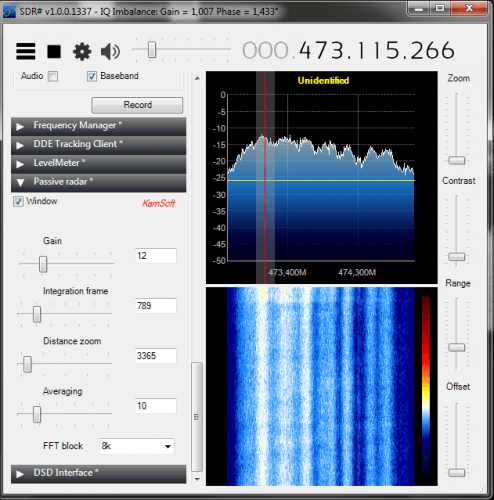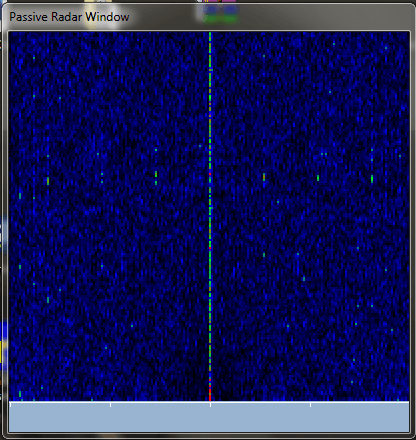 The second plugin is called "IF Average". This plugin allows the IF signal (the entire active bandwidth is what he seems to be referring to) to be averaged which is useful for many applications including radio astronomy projects such as detecting the Hydrogen line. He writes:
The second plugin which is finished is for IF signal averaging. It is important in case of radio-astronomical observations. It allows to cumulate signals (up to 10000 samples in real time), present them in friendly way and save for further work.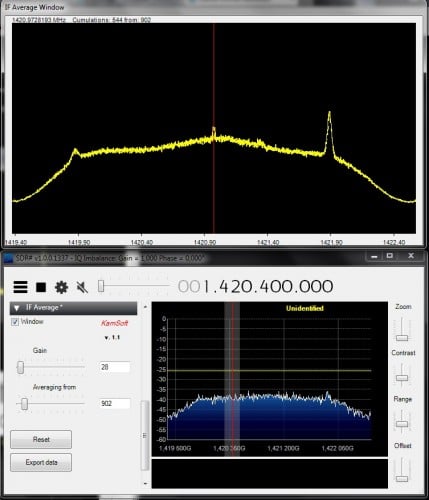 The plugins require the installation the XNA Framework Redistributable 3.1.