YouLoop Portable Passive HF/VHF Loop Antenna now Available in our Store
We have recently been able to obtain a small number of YouLoop HF/VHF portable receive only passive antennas that were produced by the owner of Airspy. The YouLoop is available in our store priced at US$34.95 including free worldwide shipping. It comes with the balun "tee" connector, coax inverter, 2x 1m semi-rigid coax cables for a ~60cm loop, and 1x 2m semi-rigid coax for the feedline. Note that US customers may wish to purchase from airspy.us as they have local US stock. We are focusing on non-US orders for this product and we only have very limited stock at the moment - UPDATE: Now out of stock. We have reordered more and should be back in stock by end of March.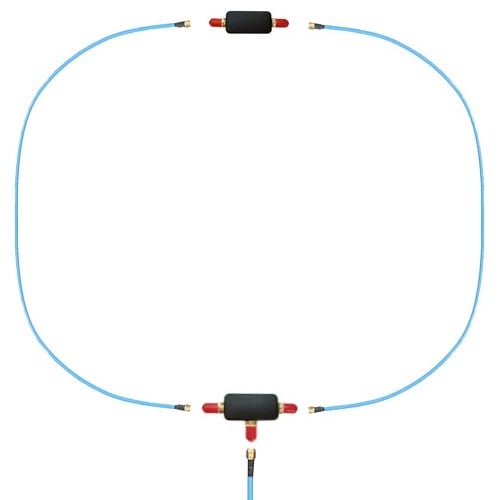 If you don't know what a "YouLoop" is, it is a simple passive magnetic loop antenna design which consists of a ring of coax cable and a low loss 1:1 or 4:1 balun. The design was recently popularized by Youssef (prog) the owner of Airspy, and he has put up a page explaining how the design works here. Many users on Twitter have been reporting good results with HF reception with the design. It appears to be especially useful in urban environments where there is lots of local noise.
Left Discovery with YouLoop Antenna, Rigth Discovery with HF Hoxin Vertical Antenna.
Same configuration in sdr#, both in roof with 25m RG213 cable.
A lot of noise in the vertical antenna, Barcelona noisy city. pic.twitter.com/NNYdpsmNTo

— EA3IBC Oscar (@ea3ibc) October 24, 2019
Being passive, it has no amplification and so it works best with a low noise SDR like an Airspy HF+. However we have also found decent results with SDRplay SDRs, and a standard RTL-SDR Blog V3 running in direct sampling mode, although RTL AGC mode needs to be turned on for an extra boost. Improved results can be obtained by using a low cost HF amplifier on the front end, and even our wideband LNA which is advertised as working down to 50 MHz still does actually give a decent boost from 5 MHz and up.
Also the design has some advantages in that it has very low electrical interference pickup, and has no electronics that can overload from signals that are too strong. Overloading from strong signals is something that can easily affect cheap magnetic loop antennas like the MLA-30, and even higher end loop antennas too. Being a magnetic loop, it also naturally filters out electric field interference which is extremely common in urban environments, and is the reason why e-field antennas like miniwhips often perform poorly.  
The antenna is designed to be extremely portable, being lightweight and easy to assemble/disassemble. As such it is not designed to be weatherproof, so if you do decide to mount it permanently please make use of weatherproofing tape.
Unlike fixed magnetic loops, the YouLoop design is also easy to experiment with. By using longer coax cables you can easily create a larger loop which can result in stronger signals. We found that replacing the 1m loop cables with 2m lengths gave quite nice results for us. If you have the space you could try even larger loops too. 
The design also doubles as a great VHF antenna with reception up to 300 MHz possible when used in a folded dipole configuration. To do that, simply flatten the loop into a dipole shape.
Finally, if you prefer the YouLoop can also be constructed by yourself. The Twitter post below shows the basic design. Search Twitter for "YouLoop antenna" for more discussion on the design too.
Testing HF YouLoop: antenna 40cm at roof VS antenna 60cm in shack. pic.twitter.com/123ZO7mpUi

— EA3IBC Oscar (@ea3ibc) August 24, 2019
In the future we hope to offer a comparison between other loop antennas like the MLA-30 and Wellbrook.