Airspy Mini: $99 USD, 24 – 1800 MHz, 12-Bit RX SDR Now Available for Preorder
Over the last few months we'd constantly heard hints that the Airspy team was working on a miniaturized version of their popular Airspy SDR. Today the Airspy Mini has been released for preorder.
The Airspy Mini has similar high performance specifications to the Airspy R2, but comes in a USB dongle sized enclosure and only costs $99 USD – half the price of the $199 USD Airspy R2. The only difference in specification appears to be that the Airspy Mini has 6 MHz of spurious free bandwidth, versus 9 MHz in the Airspy R2, and that it lacks the external clock input and some of the expansion headers which are mainly useful only for advanced experimenters. The other features including its 24 – 1800 MHz operation, 12-bit ADC and 0.5 PPM TCXO all remain the same. The Airspy team also write that the Mini still supports a 20 MSPS mode for ADS-B decoding with the ADSBSpy decoder, which should place its ADS-B decoding performance at an identical level to the Airspy R2, which is very good.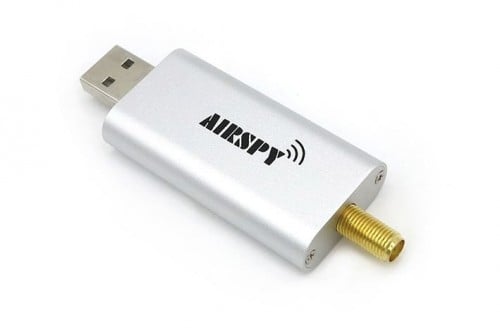 To receive the HF frequencies the Airspy team are also releasing an Airspy Mini + SpyVerter bundle which will cost $149 USD. The SpyVerter is an upconverter designed to work with Airspy products, but has also been found to work well with the RTL-SDR. 
At these prices the Airspy Mini competes heavily with the $149 USD SDRplay RSP which is a similarly specced SDR. In a previous review on this blog that compared the SDRplay RSP and Airspy R2 we found that the Airspy generally performed better in the presence of strong signals.
In the future we hope to review the Airspy Mini and check to see if its performance is similar to the Airspy R2. If its RX performance is at least the same as the R2, then it probably will be the best value SDR for those wanting to upgrade from an RTL-SDR.