CalicoCAT: New Serial CAT Control Plugin for SDR#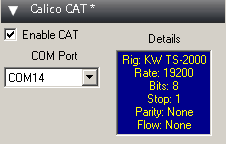 Thanks to Stephen 'Tag' Loomis (N0TTL) for submitting news about his new plugin called 'CalicoCAT' which is a serial CAT control plugin for SDR#. The plugin emulates the Kenwood TS-2000 CAT control command set, and is used to allow SDR# to communicate with other software running on the PC via a virtual serial port. To create a virtual serial port you can use free software like com0com.
Stephen notes that the plugin could be used to allow software like WSJT-X to control SDR#. For example you could use it to automatically change bands at certain times.