Dronesense: A LimeSDR Based Drone Detector and Jammer
Over on the LimeSDR CrowdSupply blog, Ogün Levent has submitted a short article about his "Dronesense" project. Dronsense is a spectrum-scanning and jamming system based on the LimeSDR. The LimeSDR is a US$299 12-bit TX/RX capable SDR that can tune between 100 kHz – 3.8 GHz, with a maximum bandwidth of up to 61.44 MHz.
Drone defense is a problem that is plaguing airports, cities, sensitive buildings and the military. These days anyone with a low cost off the shelf drone can cause havoc. Solutions so far have included net guns, drone deployed nets, wideband jammers, GPS spoofers, traditional and passive radar systems, visual camera detection, propeller noise detection, microwave lasers and SDR based point and shoot drone jamming guns like the IXI Dronekiller.
Both the expensive made for military IXI Dronekiller SDR gun, and the LimeSDR Dronesense work in a similar way. They begin by initially using their scanning feature to detect and find potential drone signals. If a drone signal is detected, it will emit a jamming signal on that particular frequency, resulting in the drone entering a fail-safe mode and either returning to base or immediately landing. Specifically targeting the drone's frequency should help make the jammers compliant with radio regulations as they won't jam other legitimate users at the same time. We note that this method might not stop drones using custom RF communications, or fully autonomous drones.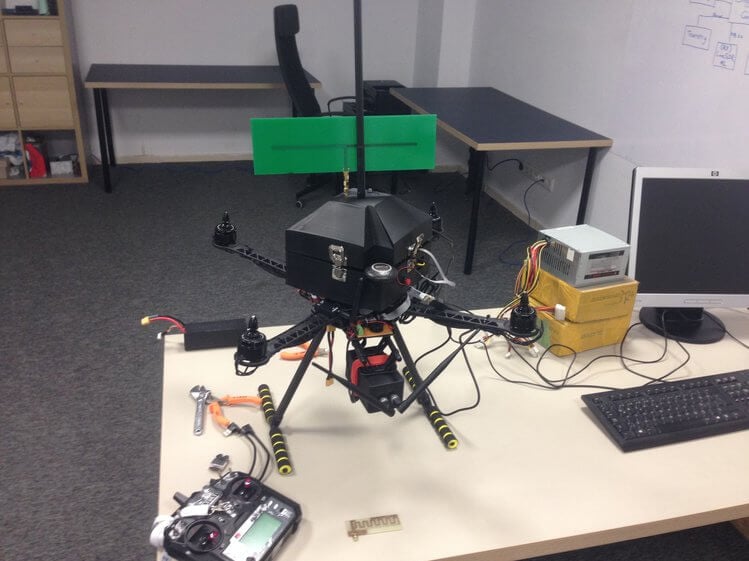 However, unlike the IXI Dronekiller gun, Dronesense requires no pointing and aiming of a gun like device. Instead it appears to be mounted on another drone, with an omnidirectional jamming antenna. It runs with a GNU Radio based flowgraph which decides if a detected signal is from a drone, and if so activates the jammer. Unfortunately the software and further details don't appear to be available due to non-disclosure agreements.
DroneSense Second Jamming Test (Software Defined Aerial Platform)