New Nano 3 RTL-SDR Available from NooElec
NooElec have just released their new NESDR Nano 3 RTL-SDR dongle for $27.95 USD. This is a new iteration in their line of 'nano' sized dongles, which are very small and suitable for use on small devices like Raspberry Pi's and mobile phones. These nano form factor RTL-SDR dongles are also commonly used with the Stratux project which aims to bring lost cost ADS-B and UAT capabilities to small airplane pilots.
The Nano 3 appears to have a standard nano sized RTL-SDR PCB with TCXO inside, but comes with a new fully enclosed metal case with internal thermal coupling pads for cooling. A small external heatsink is also provided for optional use with the dongle. The dongle also uses a standard MCX connector, but the kit comes with an MCX to SMA F adapter. We're not sure if the cooling from the small metal case will be enough to solve the L-band PLL lock problem, but perhaps when combined with the modified L-band driver tweak it might be enough. Failing that the external heatsink combined with slight airflow from a fan should be enough.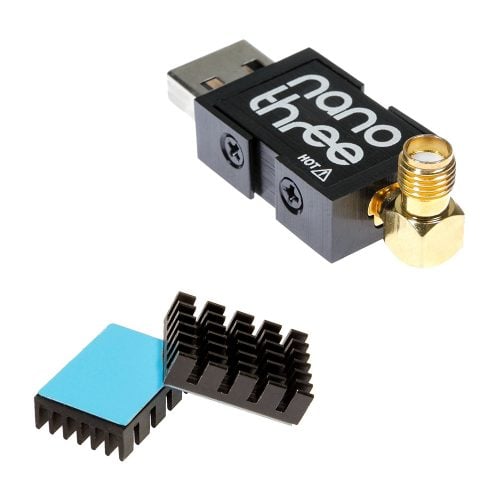 The previous model called the Nano 2, was also redesigned from the generic nano models for better cooling and to be able to use a TCXO. However, some tests by Chris of the Stratux project seem to show that the Nano 2 is quite a bit noisier than the cheaper generic nano dongles, and actually runs about 40 degrees F hotter. Noise is a problem with these small dongles as the noisy digital and switch mode sections are much closer to the RF sensitive parts. Heat is also an issue due to the lack of PCB space for heat dissipation. Hopefully the Nano 3 resolves these issues with the metal case and improved cooling.
There are now several generations and models of these 'nano' RTL-SDRs available. All briefly described below: