New Version of Digital Speech Decoder DSD+ 1.071 Released
The latest version of Digital Speech Decoder+ (DSD+) has just been released, bringing it up to version 1.071. There appears to be no changelog, so we are unsure as to what is new, but one obvious change is that they now include a new program called FMP which is a simple NFM demodulator, similar to rtl_fm, although it does have a GUI with point and click tuning. FMP can be used as a replacement for SDR# or similar software, and is especially useful to use on low end devices such as netbooks.
An active discussion on the latest release of this software can be found in this thread on the RadioReference.com forums.
DSD+ is a Windows program which can be used to decode and listen to digital voice protocols such as D-STAR, NXDN4800, NXDN9600, DMR/MotoTRBO, P25 Phase 1, X2-TDMA and ProVoice with an RTL-SDR or other radio. On some DMR systems you may also be able to use the included LRRP software, which allows you to view the GPS locations of broadcasting radios. The last major release was version 1.05.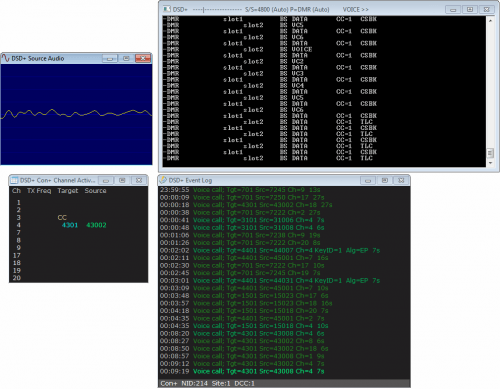 The DSD+ team are now also offering a "fast lane" early access program, which for a small donation will allow you to have early access to new and upcoming DSD+ features. They aim to release a new update to donators every 7 to 30 days, while stable public releases will continue to be released every 4 to 6 months. The donation costs $10 for one year of early access, and $25 for lifetime updates. Some features they are currently working on include:
Better tablet support
IDAS/NEXEDGE/Cap+/Con+/TIII trunk voice following
Per-call audio recordings
Other needed DSD+ upgrades
FMP upgrades

Squelch
Drift tracking
Selectable sampling rates
Adjustable windows sizes
TCP client/server mode (eliminates VAC / VB-C)
Multiple VFOs
Airspy support