33% OFF Sale: Ultra Stable Bullseye LNB for QO-100/Es'Hail-2
Back in May we started selling the Bullseye LNB on our store, which is an ultra stable LNB for receiving QO-100 and other Ku-Band satellites/applications. We have recently managed to secure a good deal from the supplier. However, our storage warehouse is now low on space and we are hence running a 33% off stock clearance sale with the unit now priced at only US$19.97 including free worldwide shipping to most countries. 
To order the product, please go to our store, and scroll down until you see the QO-100 Bullseye TCXO LNB heading. Alternatively we also have stock via our Aliexpress store or on eBay.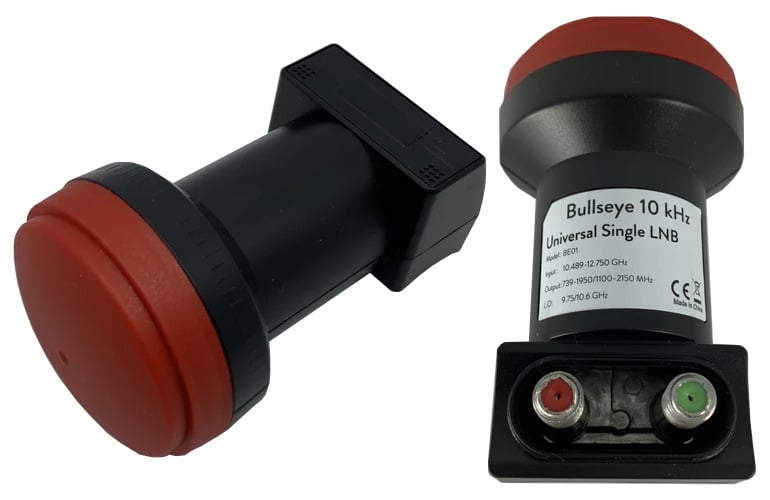 What is QO-100 and an LNB?
QO-100 / Es'hail-2 is a geostationary satellite at at 25.5°E (covering Africa, Europe, the Middle East, India, eastern Brazil and the west half of Russia/Asia) providing broadcasting services. However, as a bonus it also has the world's first amateur radio repeater in geostationary orbit. Uplink is at 2.4 GHz and downlink is at 10.5 GHz.
Most SDRs do not tune all the way up to 10.5 GHz, so an LNB (low noise block) is typically used, which contains the feed, an LNA, and a downconverter which converts the 10.5 GHz frequency into a much lower one that can be received by most SDRs.
What's special about the Bullseye LNB?
In order to properly monitor signals on QO-100 an LNB with a Temperature Compensated Oscillator (TCXO) or other stabilization method is required. Most LNBs have non-stabilized crystals which will drift significantly over time on the order of 300 PPM with temperature changes.  This means that the narrowband signals used on QO-100 can easily drift out of the receive band or cause distorted reception. Software drift compensation can be used to an extent, but it works best if the LNB is somewhat stable in the first place. It is possible to hand modify a standard Ku-band LNB by soldering on a replacement TCXO or hacking in connections to a GPSDO, but the Bullseye LNB ready to use with a built in 1PPM TCXO and is cheap.
Reviews
In the past Tech Minds has reviewed this product favourably in the video shown below. In a second video he has also shown how the Bullseye can be combined with a transmit helix in order to create a dual feed uplink + downlink capable antenna.
Ultra Stable Bullseye LNB For QO-100 Es Hail2 10 kHz
F4DAV has also reviewed the unit on his website, concluding with the following statement:
As far as I know the BE01 is the first affordable mass-produced Ku-band TCXO LNB. These early tests suggest that it can be a game changer for amateur radio and other narrowband applications in the 10 GHz band. The stability and ability to recalibrate should allow even unsophisticated analog stations to tune to a 5 kHz channel and remain there for hours at a time. For SDR stations with beacon-based frequency correction, the absolute accuracy removes the need to oversample by several hundred kHz or to scan for the initial frequency offset.
There are also several posts on Twitter by customers noting good performance
Very happy with the Bullseye Lnb. pic.twitter.com/FqzqzS2upa

— Paul Bowen (M0PNN) (@paulbowen18) May 7, 2020
Official Feature List + Specs
Features
Bullseye 10 kHz BE01
Universal single output LNB
Frequency stability within 10 kHz in normal outdoor environment
Phase locked loop with 2 PPM TCXO
Factory calibration within 1 kHz utilizing GPS-locked spectrum analyzers
Ultra high precision PLL employing proprietary frequency control system (patent pending)
Digitally controlled carrier offset with optional programmer
25 MHz output reference available on secondary F-connector (red)
Specifications 
Input frequency: 10489 - 12750 MHz
LO frequency 9750/10600 MHz
LO frequency stability at 23C: +/- 10 kHz
LO frequency stability -20 - 60C: +/- 30 kHz
Gain: 50 - 66 dB
Output frequency: 739 - 1950 MHz (low band) and 1100 - 2150 (high band)
Return loss of 8 dB (739 - 1950 MHz) and 10 dB (1100 - 2150 MHz)
Noise figure: 0.5 dB
We note that an external bias tee power injector is required to power the LNB as it requires 11.5V - 14V to operate in vertical polarization and 16V - 19V to operate with horizontal polarization. The bias tee on the RTL-SDR Blog V3 outputs 4.5V so it is not suitable.