QO-100 Bullseye TCXO Ultra Stable LNB Now Available in our Store for $29.95 with Free Shipping
Back in March we posted about Othernet's release of their "Bullseye" TCXO ultra stable LNB for receiving QO-100 and other Ku-Band satellites. We have decided to now offer these for sale on our store as well.
They cost US$29.95 with free shipping to most countries. We are currently selling it over on our blog store and on our Aliexpress store. The Aliexpress store uses Aliexpress Standard Shipping which may be better for some countries like Poland, Ukraine, etc. As usual, please expect that there could be shipping delays at the moment due to the ongoing global pandemic. Since the US is not covered by QO-100 we will not be stocking Amazon USA.
QO-100 / Es'hail-2 is a geostationary satellite at at 25.5°E (covering Africa, Europe, the Middle East, India, eastern Brazil and the west half of Russia/Asia) providing broadcasting services. However, as a bonus it has allowed amateur radio operators to use a spare transponder. Uplink is at 2.4 GHz and downlink is at 10.5 GHz. Most SDRs do not tune all the way up to 10.5 GHz, so an LNB (low noise block) is typically used, which contains the feed, an LNA, and a downconverter which converts the 10.5 GHz frequency into a much lower one that can be received by most SDRs.
In order to properly monitor signals on QO-100 an LNB with a Temperature Compensated Oscillator (TCXO) or other stabilization method is required. Most LNBs have non-stabilized crystals which will drift over time with temperature changes.  This means that the narrowband signals used on QO-100 can easily drift out of the receive band or cause distorted reception. It is possible to hand modify a standard Ku-band LNB by soldering on a replacement TCXO or hacking in connections to a GPSDO, but the Bullseye LNB is ready to use and cheap.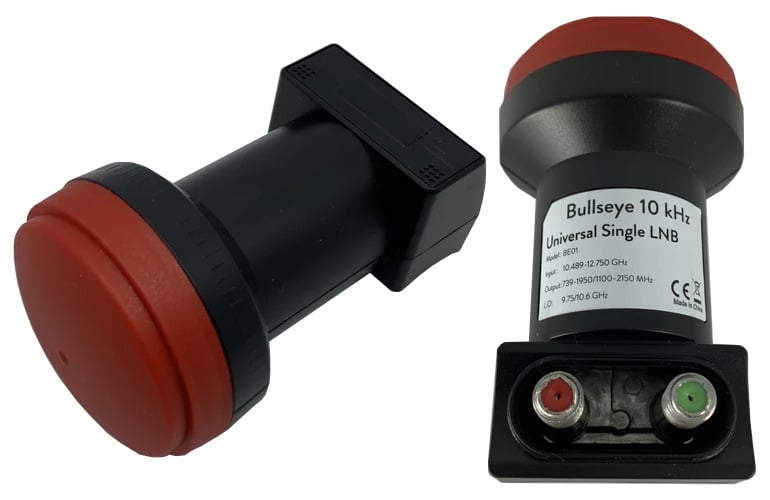 The official product details read:
The Bullseye LNB is the world's most precise and stable DTH/consumer Ku-band down converter. Even a VSAT LNBF costing hundreds of dollars more is no match for the performance of the Bullseye 10K LNB. Each unit is calibrated at the factory to within 1 kHz of absolute precision against a GPS-locked spectrum analyzer. Under outdoor conditions, the stability of the LNB is well within 10 kHz of offset. As a bonus feature, the  Bullseye 10K provides access to its internal 25 MHz TCXO through the secondary F-connector. This reference output can be used to directly monitor the performance of the TCXO over time. 
Features
Bullseye 10 kHz BE01
Universal single output LNB
Frequency stability within 10 kHz in normal outdoor environment
Phase locked loop with 2 PPM TCXO
Factory calibration within 1 kHz utilizing GPS-locked spectrum analyzers
Ultra high precision PLL employing proprietary frequency control system (patent pending)
Digitally controlled carrier offset with optional programmer
25 MHz output reference available on secondary F-connector (red)
Specifications 
Input frequency: 10489 - 12750 MHz
LO frequency 9750/10600 MHz
LO frequency stability at 23C: +/- 10 kHz
LO frequency stability -20 - 60C: +/- 30 kHz
Gain: 50 - 66 dB
Output frequency: 739 - 1950 MHz (low band) and 1100 - 2150 (high band)
Return loss of 8 dB (739 - 1950 MHz) and 10 dB (1100 - 2150 MHz)
Noise figure: 0.5 dB
We note that an external bias tee power injector is required to power the LNB as it requires 11.5V - 14V to operate in vertical polarization and 16V - 19V to operate with horizontal polarization. The bias tee on the RTL-SDR Blog V3 outputs 4.5V so it is not suitable.
There has also been an excellent review by @F4DAV and a video review by Techminds which we show below.
Ultra Stable Bullseye LNB For QO-100 Es Hail2 10 kHz