Receiving up to 4.5 GHz with an RTL-SDR and a $5 Directv Downconverter
KD0CQ has recently been experimenting with trying to receive signals at frequencies of up to 4.5 GHz with an RTL-SDR and downconverter. Since a typical R820T/2 RTL-SDR's maximum frequency limit is about 1.7 GHz, an external downconverter circuit is required. A downconverter converts high frequencies down into the range receivable by the RTL-SDR. For example a downconverter with a 2.4 GHz local oscillator would convert a 3.5 GHz signal down to 1.1 GHz, which can be easily received by an RTL-SDR.
The secret to doing this cheaply is revealed by KD0CQ. He shows that a very cheap $5 Directv SUP-2400 upconverter can be converted into a 2.4 GHz downconverter simply by removing some filters. He writes that he hasn't uploaded the full set of steps to modify the SUP-2400 yet, but he intends to do so in the near future.
There is also a discussion about this mod on Reddit. Several posters have been discussing what applications a cheap downconverter could open up. Some mentioned applications include receiving various satellites in the C/S bands, DECT cordless phones @ 1.9 GHz, SiriusXM satellite radio @ 2.3 GHz, ISM @ 2.4 GHz, RADARs, RC aircraft control/telemetry/video and ham beacons.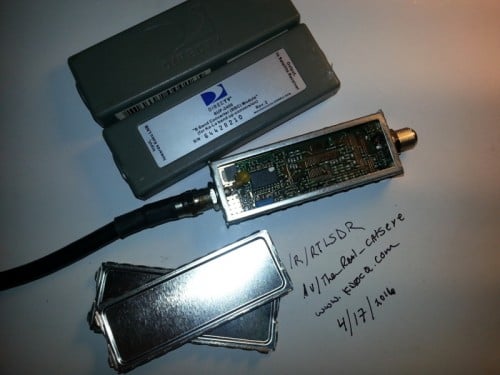 $5 Microwave Downconverter for the RTLSDR KD0CQ